IWC – certification COMMITTEE
The purpose of the certification committee is to developing and administering IWC certification programs in accordance with accreditation standards and industry best practices.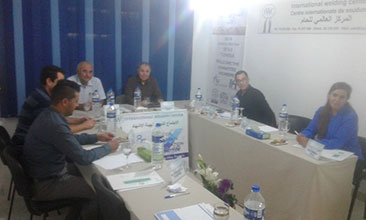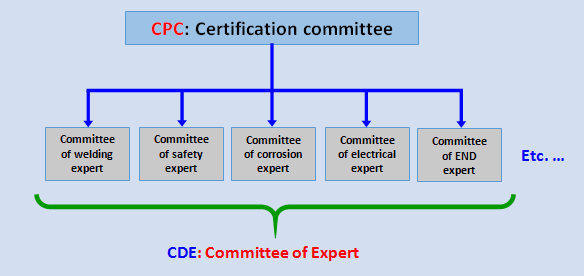 Proposal of new disciplines for person's certification.
Validation of proposals for new person certification disciplines coming from external partners (university, industry, public body, etc.) and IWC staff.
Approval of the CS (Certification Scheme)
Approval of the OCP (Overview of Certification Process)
Final validation and approval of the new person certification.
Monitoring of impartiality during the training and examination (any action or behavior of the trainer or the IWC staff that may affect the security of the exams)

CPC task
description

Description des
taches de la CPC

CPC member Job
description

Fiche fonction
d'un membre du CPC
WC delegates sole authority to the Certification Committee to make essential certification decisions regarding current Programs. The Certification Committee operate autonomously with regard to any and all undue influences in the fulfillment of its responsibilities, and act at all time in the best interests of IWC, consumers of services provided by IWC, and the general public.
The Certification Committee shall remain accountable to the IWC Board for the fulfillment of its responsibilities, and the IWC Board shall be obligated to revoke this delegation of authority if the Committee shall act or demonstrate the intent to act in a manner that jeopardizes the mission or integrity of the IWC or its Programs.
In addition to the specific requirements for the establishment of the Certification Committee as set forth in this document, the Certification Committee shall function, and its members act, in accordance with all relevant policies.
Develop, establish, and enforce all certification disciplines.
Selection, management and direction of Expert Committee.
Supervise and control of IWC impartiality and confidentiality.
Approval of certification specification (certification schemes& OCP).
Follow all certification session (in person or by exam room cam).
Communicate with industrial to discuss any development of new certification discipline.
Conduct all meeting with industrial and specific Expert Committee.
Conduct and organize IWC Certification meeting with all certifications staff and member each year.
The Certification Committee is composed by the following members, each with voting privileges:

President, Chair and Certification Director
Vice Chair, and/or Secretary
Member A: At least one university member.
Member B: At least one professional educational member.
Member C: At least one industrial member.
Member D: At least one governmental member.

The Certification Committee members shall establish additional qualifications for appointment to the Committee (e.g., education, industry expertise) as appropriate. All requirements are established inCPC member Job description sheet.

CPCmember
application form

CPC member Job
description

Fiche fonction d'un
membre du CPC
ACTUAL CERTIFICATION COMMITTEE MEMBER


FOUED BEN AMOR
Président du CPC 2019
Ancien directeur qualité
MIG Sfax Tunisie
fouedbenamor58@gmail.com


TAREK BACCARI
Vice-Président du CPC 2019
Président d'IWC
baccari.tarek@iwc-group.com.tn
Certification Committee members should make every effort to prepare for, attend, and be an active participant in all meetings.
Certification Committee Members should expect to dedicate approximately 6 hours per year to Certification Main Committee work.
The Certification Committee Chair should expect to dedicate approximately 20 hours per year to Committee work.
Certification Committee members serve as unpaid volunteers.
The Certification Committee shall meet, at minimum, annually in person or by web conference to conduct business. Other meetings, including conference calls and web conferences will be conducted on an as-needed basis at the request of the Certification Committee. The annual meeting and other meetings shall be at a time and location agreed upon by the Certification Committee and IWC staff.
Appropriate notice of at least seven days will be given prior to any Certification Committee meeting. A majority of the Certification Committee shall constitute a quorum. The Certification Main Committee shall keep minutes from all meetings.