IWC provides training and examination services via its network of offices and training centers and agents worldwide. Our courses and examinations are designed to service all key industry sectors including oil and gas, aerospace, construction, power and automotive, and all courses are supported by internationally recognized certification. IWC has trained staff for some of the most influential companies in the world.
The International Welding Center (IWC) was founded in 2014, as a nonprofit organization with a global mission to advance the science and technology.
Our courses and exams are designed to serve all key industrial sectors, including oil and gas, petrochemical, aerospace, construction, energy and automotive. All courses are accompanied by an internationally recognized certification.
IWC strives to move the industry forward in both thought and action, as well as inspire new generations to see the exciting career opportunities available today.
Our main goal is to train and provide highly qualified and skilled persons, not only giving certificates.
As for the certificate, it is a sureness result of a continuous effort and work that each candidate deserves and proves his skill by success an accredited test.
Our performance policy is centered on the candidate, his flexibility in employment, the provision of a distinguished salary, his success in creating value in the organization, and the satisfaction of the employer is the measure of our success.
Our certificatesare high value and efficiency, and this is only obtained by someone who deserves them.
Training with IWC leads to internationally recognized qualifications which deliver real benefits to industry through the acquisition of new competences.
IWC's portfolio of courses and certification schemes is regularly updated to maintain IWC's position as the world leader in its field, so you can be sure that your training is internationally recognized by the most known companies.
Company name: IWC Ltd: International Welding Center
Foundation date: January 2014
Headquarter address: km 1. Rd. Gremda – 3000 Sfax Tunisia
Patent number: 1333601 CAM 000
Trade register number: B0821412014
Training authorization number:61-257-14
Insurance number:
In today's world there is increasing emphasis placed on the need for quality, and persons skills is an important part of the overall quality effort. This concern for product quality is due to several factors, including economics, safety, government regulations, global competition, and the use of less conservative designs butt the person's skills provided by training and certification remain the principle factor of product or service quality.
Conformity assessment includes activities used to ensure products, processes, services, persons, systems and bodies meet specified requirements. These activities can include testing, inspection, evaluation, examination, auditing, assessment, declaration, certification, accreditation, peer assessment, verification and validation.
Certification refers to the confirmation of certain characteristics of an object, person, or organization. This confirmation is often, but not always, provided by some form of external review, education, assessment, or audit. Organization people are its most important assets. When they are abreast of new management trends, regulatory developments, and quality and safety requirements, so it is the company business. That is why an investment in qualification and certification is an investment in the organization's success.
The certification programs developed for several years by various global organizations has not focused improvement of the practices and theories used in the industry and are limited to auxiliary functions that disappoint the actual needs of the owners.
Therefore, IWC has developed its certification programs to meet the needs of manufacturers and candidates such usskills, cost and deadlines by integration of professionals, academics, experts and specialists in its certification committees.
Advancing science, technology and techniques for learning, training and skills validation: it is our mission and purpose.

The best program
IWC is the only certification body having process for designing certification programs appropriate to job occupation.

IWC ensures:
Programs recognized by recruiters.
The information necessary to successfully complete your job interview.
The skills that ensure continuity in work and professional progression.
Sufficient number of hours of learning.
Course and exam consistent with field practices.

The best price
Because our system is focused on skills development, our price is the best in the entire world.

PRICE LIST

Impartiality, confidentiality and transparence
All applicants will be treated the same regardless of their race, country, color, gender and religion.
All documents and information received during any certification session will be treated confidentially. Photos will be shared under acceptance of the candidate.
The results of the certification exams will be published with a unique number and not with names or photos.
Exam questions are strictly confidential even to IWC staff whose choices, organization and printing will be administered by computer from a question bank that has thousands of probability of non-redundancy.
Toutes les sessions de formation et d'examen seront surveillées par le comité principal de certification en temps réelle et seront enregistrées sur des CD pour toutes demandes d'audit public ou d'accréditation.
IWC has implemented all the measures and means to fight against corruption and cheating in the training and examination system.
Be sure that anyone with an IWC certificate has acquired the necessary skills during the training and has passed their certification exam with complete transparency.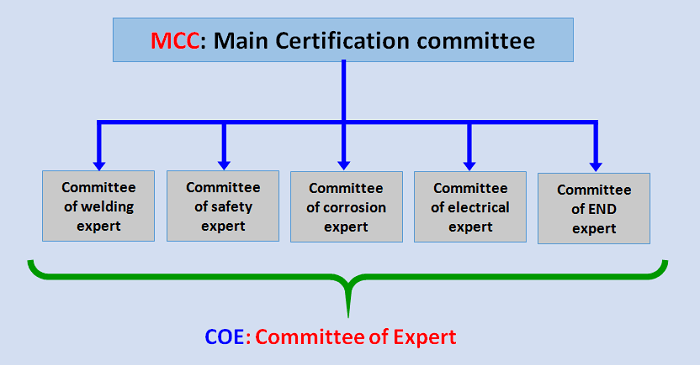 MCC: Main Certification committee
The main certification committee aims to develop and administer IWC certification programs in accordance with accreditation rules and industry best practices ensuring that related standards are systematically defined and applied. It is here to:
Ensure compliance of the certification system vs public.
Proposal and approval of new certification.
Approval of certification schemes.
Validation and approval of training and certification documents.
Monitoring impartiality during training and exams.
The main certification committee delegates to expert committee the development of specific certification schemes, overview of the certification process and its maintenance in the concernedareas.The Committee of Experts operates autonomously under all influences included in the fulfilment of its responsibilities, and must at all times act in the best interests of the candidates and the general public in its stated commitment of confidentiality, impartiality and independence policies. It is here to:
Answerthe main certification committeeinquiry.
Examine and verify the certification process.
Provide advice as required for the people certification process.
Participate in the review and approval of training documents.
Participate in the review and approval of exam questions and their solutions.
Provide advice for the development and maintenance of certification exam question banks.
Recommend IWC staff to update training and exam documents.
Participate in monitoring of training and certification activities.